What is CANVAS?
The growing complexity of the digital ecosystem in combination with increasing global risks entail the danger that enforcing cybersecurity may bypass other fundamental values like equality, fairness or privacy, whereas downplaying cybersecurity would undermine citizens' trust and confidence in the digital infrastructure. For tackling this challenge, the European Commission has chosen the CANVAS Consortium – Constructing an Alliance for Value-driven Cybersecurity – to unify technology developers with legal and ethical scholar and social scientists to approach the challenge how cybersecurity can be aligned with European values and fundamental rights. Within three years, CANVAS aims to bring together stakeholders from key areas of the European Digital Agenda – the health system, business/finance, and law enforcement/national security – for discussing challenges and solutions when aligning cybersecurity with ethics. A special focus of CANVAS is on raising awareness on the ethics of cybersecurity through teaching in academia and industry.
Work Packages
As cybersecurity affects all domains of ICT applications, CANVAS uses a two-dimensional approach for organizing its work.
Work Packages (WP) aggregate all activities that follow the same methodological doctrine. Each Work Package is led by a Consortium partner and consists of several tasks. CANVAS consists of 8 WPs in total.
WPs 1-4: Their main function is to consolidate existing knowledge in the domains of ethics, law, empirical (sociological), and technological research related to cybersecurity. This will be done with a specific focus on the three social spheres under consideration.
WPs 6-8: They aim to create the three main output deliverables of CANVAS (Briefing Packages, Reference Curriculum, MOOC). Where applicable, a reference to the domains under consideration will me made (e.g., when pointing to specific examples).
WP 5: This is the integrating unit that includes community built-up and workshop organization. It is thus the Work Package that includes all relevant management procedures and is led by the coordinating institution (University of Zurich).
Domains aggregate activities across WPs that deal with the same thematic issue. CANVAS focuses on three domains that relate to specific value conflicts. Particularly involving autonomy and equality (health), fairness and responsibility (business and finance), and freedom and privacy (law enforcement and national security). Each domain is led by a consortium partner. Read more »
Consortium Partners
The CANVAS Consortium consists of 11 partners – 9 academic institutions and 2 partners outside academia – that are located in 7 European countries. The Consortium, coordinated by the Centre for Ethics of the University of Zurich, unifies scholars from the Vrije Universiteit Brussel (Belgium), the Otto-Friedrich-Universität Bamberg (Germany), the Ostbayerische Technische Hochschule Regensburg (Germany), the ADAPT Centre of the Dublin City University (Ireland), the Technische Universiteit Delft (Netherlands), the Universitat Rovira i Virgili, Tarragona (Catalonia/Spain), the Université de Lausanne (Switzerland), and the Berner Fachhochschule Biel (Switzerland). In addition, the leading European ICT Security company F-Secure (Finland) and the Unabhängiges Landeszentrum für Datenschutz Schleswig-Holstein (Germany) add expertise to the consortium. CANVAS is endowed with a budget of 1.57 Mio. €, of which 1 Mio. € is funded by the European Commission and the remaining part emerges from the Swiss State Secretariat for Education, Research and Innovation.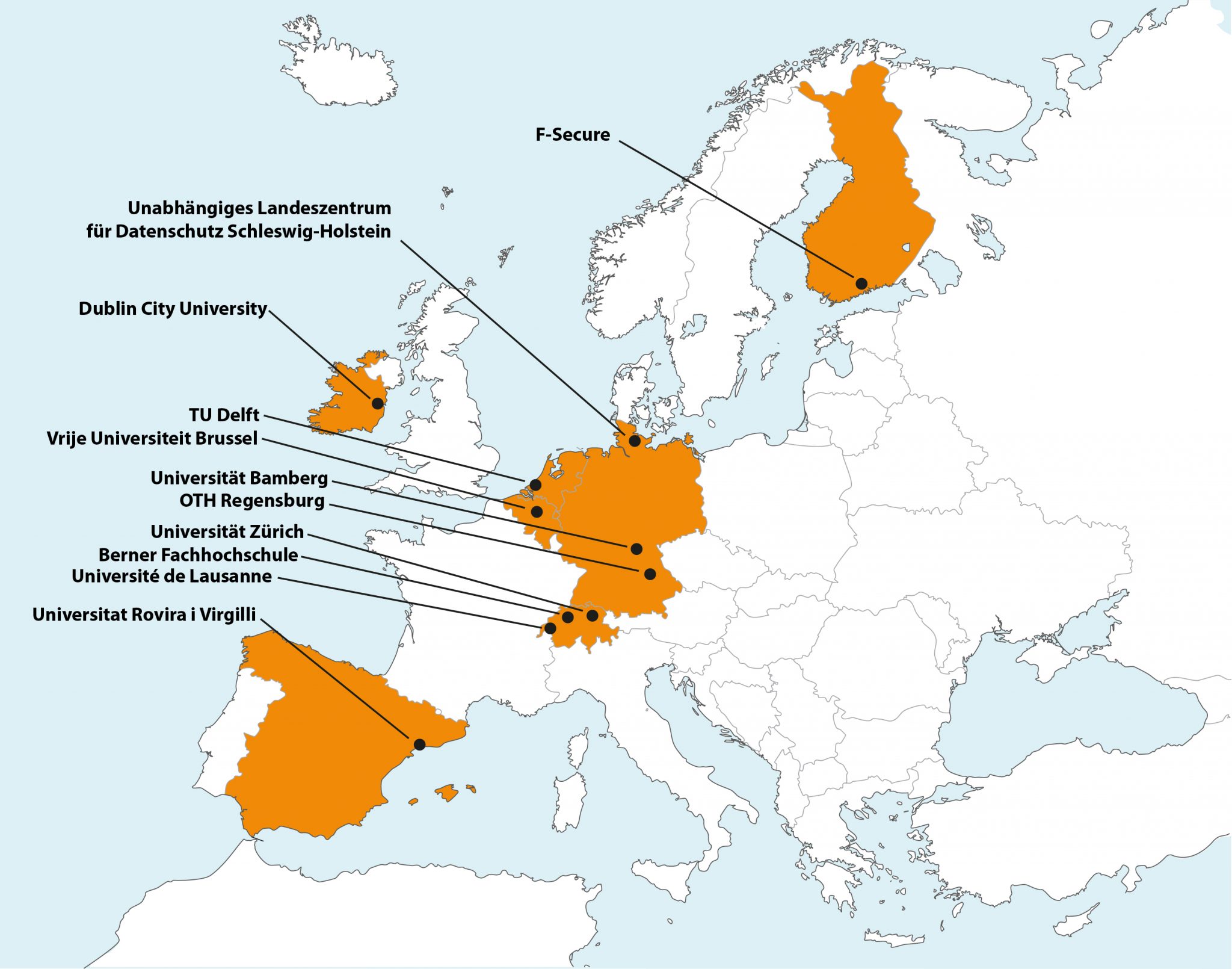 The CANVAS Advisory Board provides alternative views and insights into the research, advices on the strategic directions of the project and helps in dissemination of the project results. It consists of the following persons:
Mariarosaria Taddeo: University of Oxford, Oxford Internet Institute
Seumas Miller: Charles Sturt University, Centre for Applied Philosophy and Public Ethics
Don Howard: University of Notre Dame, Reilly Center for Science, Technology, and Values
Felix Freiling: Friedrich-Alexander-Universität Erlangen-Nürnberg, Computer Science
Learn more
Get Involved
CANVAS is open for any institution that is interested in helping to pursue value-sensitive cybersecurity and who wants to contribute to the discussion. Alliance-construction will be both top-down and bottom-up. The top-down process executed by CANVAS will pursue as follows:
In a first step, the consortium partners will approach institutions and organizations to which they already have established contacts.
In a second step, we will approach representatives of selected former or running EU projects that have or do generate insights into the cybersecurity problem.
In a third step, we will identify "missing gaps" and we will search for additional partners for closing these gaps.
By "bottom-up" we refer to the possibility that any institution or individual person who learns about the activities of CANVAS can contact us (contact@canvas-project.eu) and apply for becoming a member of the CANVAS alliance.
Benefits for Becoming Involved
CANVAS alliance partners will …
Receive a quarterly newsletter updating them on any activities (research, conferences etc.) that relate to value-sensitive cybersecurity.
Be invited to workshops and other events organized by CANVAS
Can ask for the possibility to contribute to the CANVAS Deliverables, in particular to the MOOC.
Can provide input to the agenda-setting process on how the European Commission should in future tackle the issue of value-driven cybersecurity
In the course of developing the CANVAS Alliance, we will explore further possibilities for community construction.
Alliance Partners